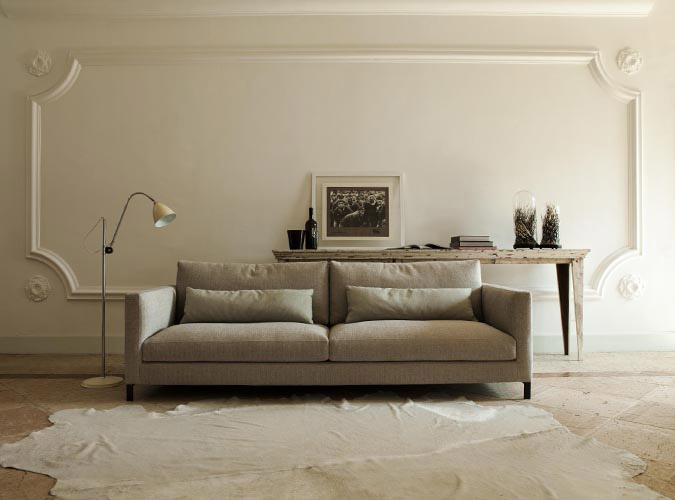 Hampton is a new elegant and refined modular sofa, a real modern reformulation of classical sofas. The collection includes two models: Hampton and Hampton Memory, which are differentiated by the length of the arm and shape of the seat cushions. In Hapmton, the arm completely occupies the depth of the sofa, highlighting its symmetry and squared shapes, whereas in Hampton Memory the shorter arm cuts the symmetry of shpes. In Hampton, the seat cushions are parrallel on the entire length of the sofa, in the case of Hampton Memory, they are L-shaped and are combined with the arm.

Both solutions have simple and harmonious lines, in addition to visual lightness further highlighted by the elegant bridge foot made of aluminium, available in two finishes.

Hampton, in addition to sofas in various sizes, offers a variety of modules - corners, side panels, chaise loungue, dormouse, and pouofs - whereas Hampton Memory is developed on a number of proposals with fixed sizes. In both cases, a small armchair completes the range of items available. Two backrest versions are available. Hampton and Hampton Memory can be completed and customized, choosing amoung a wide range of backrests, cushions, and tables. Removable covers in fabric.