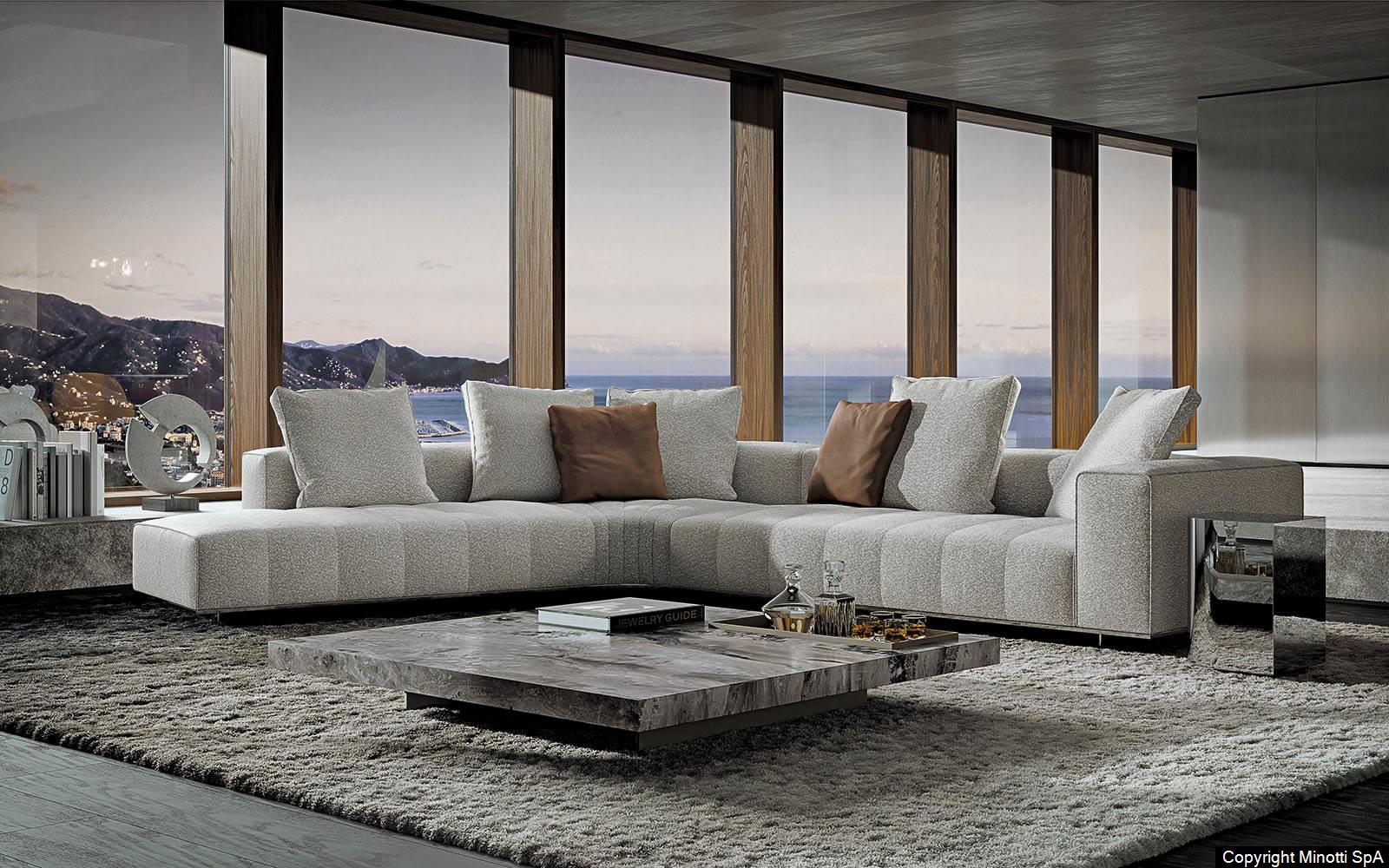 A detail that becomes volume is the essence of the Goodman design, the new modular seating system by Rodolfo Dordoni.
With a clear 1970s imprint, the inspiration behind this design is the graphic character of those years, its ability to stratify and cross marks, reducing the complexity of things into a few distinctive features. In this way, in Goodman the mark of the matelassé stitching, typical of Minotti's tailoring processes, draws shadows and light on the seat, creating the sensation of a quilted cross-padding.
The system is suspended from the floor on refined Bronze or Polished Chrome metal feet, set back from the edge, and a perimeter frame that matches the same finishes; the optical effect of suspension in Goodman enhances the softness of the seat, offering a super-comfortable welcome. The volume of the one-piece seat is particularly ergonomic and comfortable thanks to the use of the innovative technology used: the system of pocket springs is combined with a layer of polyurethane padding in layered densities that give a consistent sensation of softness and cosiness.
Compactness and softness come together in the same sofa concept, making it suitable for a more formal use both also for extreme relaxation; from the most traditional configurations to the more dynamic ones made possible by a series of individual components that animate the living space: end units, corner units, central units, chaise-longues. Each element is like a piece of a jigsaw puzzle to be joined with others to define its creator's own home environment.
Compact volumes capable of adapting to the space, the needs and tastes of the individual, as well as to the evolution of his or her living requirements over the years, easily changing into new compositions.
The unusual accessory consisting of a contoured tray covered in saddle-hide, perfectly clings to the volume of the armrest just like a saddle, making the seating system fully versatile, since the cushioning can be turned into a functional coffee table always at hand.
On one hand, the aesthetic detail of the tone-on-tone stitching echoes a distinctive trait of Minotti craftsmanship, while on the other, the hidden evolution of the design, represented by the padding technology, and the distance between the stitching, are completely new.
The stitching, which becomes a graphic detail of clear couturier matrix, in its geometric abstractionism enhances the identity of Goodman: the new addition to the collection that is able to draw inspiration from its aesthetic history and the extremely high quality of its tailoring details, evolving it with technology and sophistication.