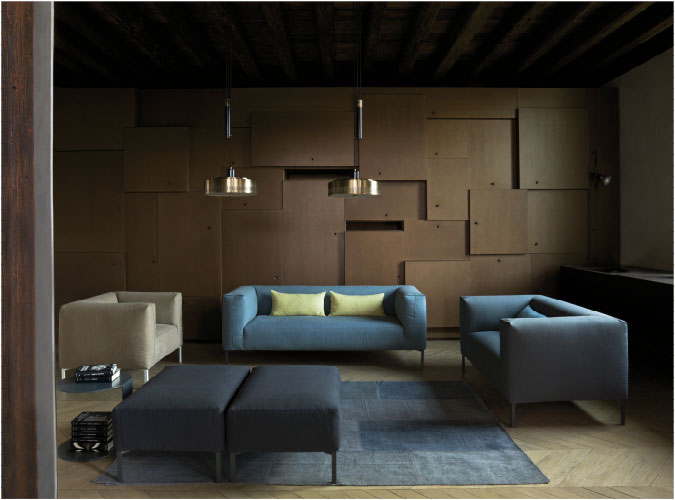 Compactness and functionality are the keywords that characterize the Fold system; sofas, side/corner items, chaise-lounge, dormeuse, dormeuse/corner and an end piece are designed for small spaces and decorated with details of unquestionable modernity.

Please note the double role played by the modules with armrests; with only one armrest, they can be used both as a side and as a corner item; modeles with two armrests can be used both as a sofa and as a side corner. Similarly, the dormeuse can be used as a stand-alone module or included as a dormeuse/corner to form a composition.

A small armchair, poufs, and pillows of various sizes complete the system. Every item is characterized by an original and highly decorative stitching, the so-called 'Punto Cavallo'. This is a distinctive graphic pattern inspired by the sealing systems of envelopes; a seam through which the coating reporduces the folds of paper.

The metal cast foot is available chrome-plated in white, red, and grey. Fabric is easily and completely removable. The structure is a frame of solid wood and plywood, sprung with interwoven elastic belts. Cushions are polyurethane non deformable foam with different densities, the top layer of the seat is made of Memory Foam, all covered with polyester fiber. All padding is fully lined with white fabric. The optional pillows are made with virgin goose and white duck down.